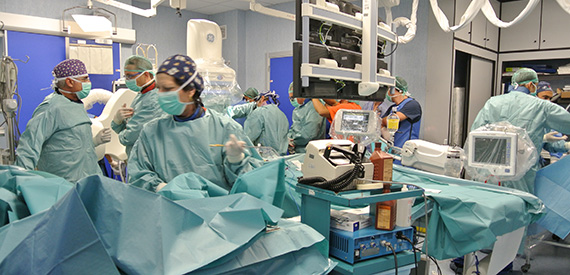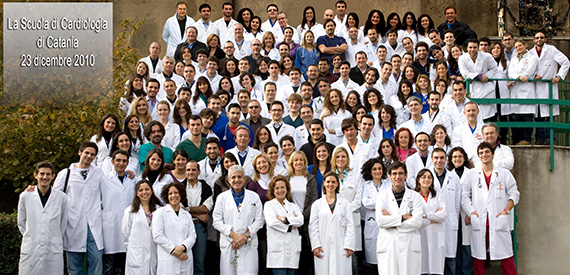 Prof. Corrado Tamburino
Full Professor of Cardiology,
Head of Cardiology Division and Cardio -Thoracic & Vascular Department
Ferrarotto & Policlinico Hospitals
Chief of Cardiothoracic, Transplantation and Vascular Surgery Department
Azienda Policlinico-Vittorio Emanuele, Universitā di Catania
Intern with medical care functions from graduation until 1989, and hospital care, from 1989 to 1993, at the Institute of Cardiology, University of Catania.
Associate Professor since 1993 and Full Professor of Cardiology since 2002.
He introduced in Sicily endomyocardial biopsy and mitral, aortic and pulmonary valvuloplasty, as well as all the alternative procedures to Interventional Cardiology Coronary balloon (stent, atherectomy, rotablator). He has introduced in Italy the treatment of severe aortic disease by transcatheter aortic valve implantation and the percutaneous mitral valve regurgitation reduction by MitraClip
Since 2004 he directs the Complex Unit of Cardiology with Intensive Care Unit, Semi Intensive Care Unit, Cath Lab and Interventional Cardiology, Interventional Arithmology of the Ferrarotto University Hospital in Catania. Since 2010 he also directs the Operating Unit of Cardiology of Policlinico Hospital of Catania.
He has published over 460 articles in journals and reported or moderated in over 460 national and international conferences. He has been attending the main international conferences of interventional cardiology as speaker and operator of live cases for years
Of particular importance are the scientific collaborations with foreign universities and clinical centers such as the University de la Pitič Salpetriere, University Saint Antoine and the Medical Chirurgical Center Parly-Grand Chesnay, France.
Operator of over 20,000 diagnostic and interventional procedures in hemodynamics with particular application in coronary angioplasty and stenting and in the treatment of heart valves diseases.
He was the first in Italy (June 4, 2007) to perform the implantation of biological aortic valve percutaneously on inoperable patients and on October 7, 2008 he made the first mitral clip implant for the treatment of mitral valve prolapse.
He was the first in Italy (October 10, 2012) to perform implantation of Parachute System for the treatment of heart failure. Moreover, he has the largest italian experience in bioresorbable scaffolds. New technologies, such as percutaneous mitral valve implantation and tricuspid failure treatment with catheter , are being developed